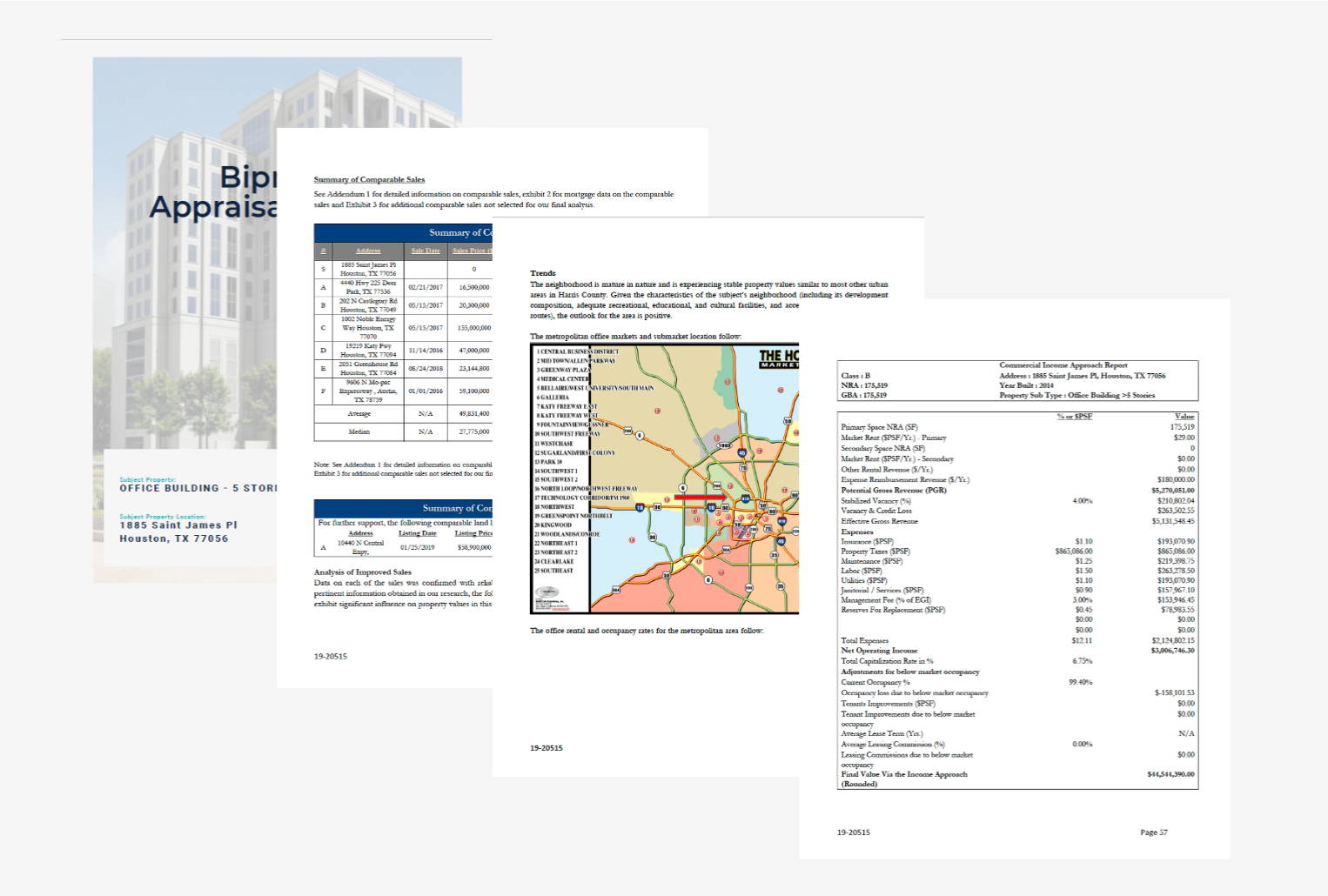 Commercial Real Estate Appraisal

MAI-certified property appraisal with market narratives and property valuations using real-time data on over 32M commercial properties - site visit included.
The MAI is a designation offered by the Appraisal Institute, the largest association of real estate appraisers, with over 18,000 professionals globally. It is one the most prestigious one can hold in the real estate valuation field.
The scope of work includes the collection of relevant data, the verification of that data and a detailed analysis once verification has been completed. This often included market area data (general characteristics of the area/neighborhood) and comparable property data (sales, listings, offerings, vacancies, etc.). The analysis will also take into account four factors: scarcity, desire, utility, and effective purchasing power. Following these steps, the appraiser forms an opinion of value and creates an appraisal report.
If you have any questions about the appraisal reports, please use the form at the bottom of this page. Our team is standing by to answer any questions you have.
---
With a 4 business day turnaround time from the scheduled site visit, know your full CRE appraisal will delivered straight to your inbox shortly after your order is placed.
Certified according to the Level 1 PCI DSS standard. What does this mean? It means that your information is equipped with data encryption tools that ensure your information stays just that -- Yours.
With a dedicated support team to answer all your questions, know that we're here to help. If you have questions about the CRE appraisal, we have answers.
---
---
Fast and secure online ordering allows you to place your order in minutes. Answer a few short questions at checkout and the Biproxi team handles everything thereafter. You can step back and focus on your client and the asset.
Site Visit & Report Creation
---
Working with only the best, an MAI certified appraiser will perform a site visit, collect all requisite information on the property, verify this data and run an analysis to determine the appraised value of your property.
---
Your CRE appraisal will be delivered to your inbox within 4 business days of the scheduled site visit.
If you have any questions about this comercial real estate appraisals, please use the form below. Our team is ready to help!
Thanks!
This field is required
This field is required
This field is required