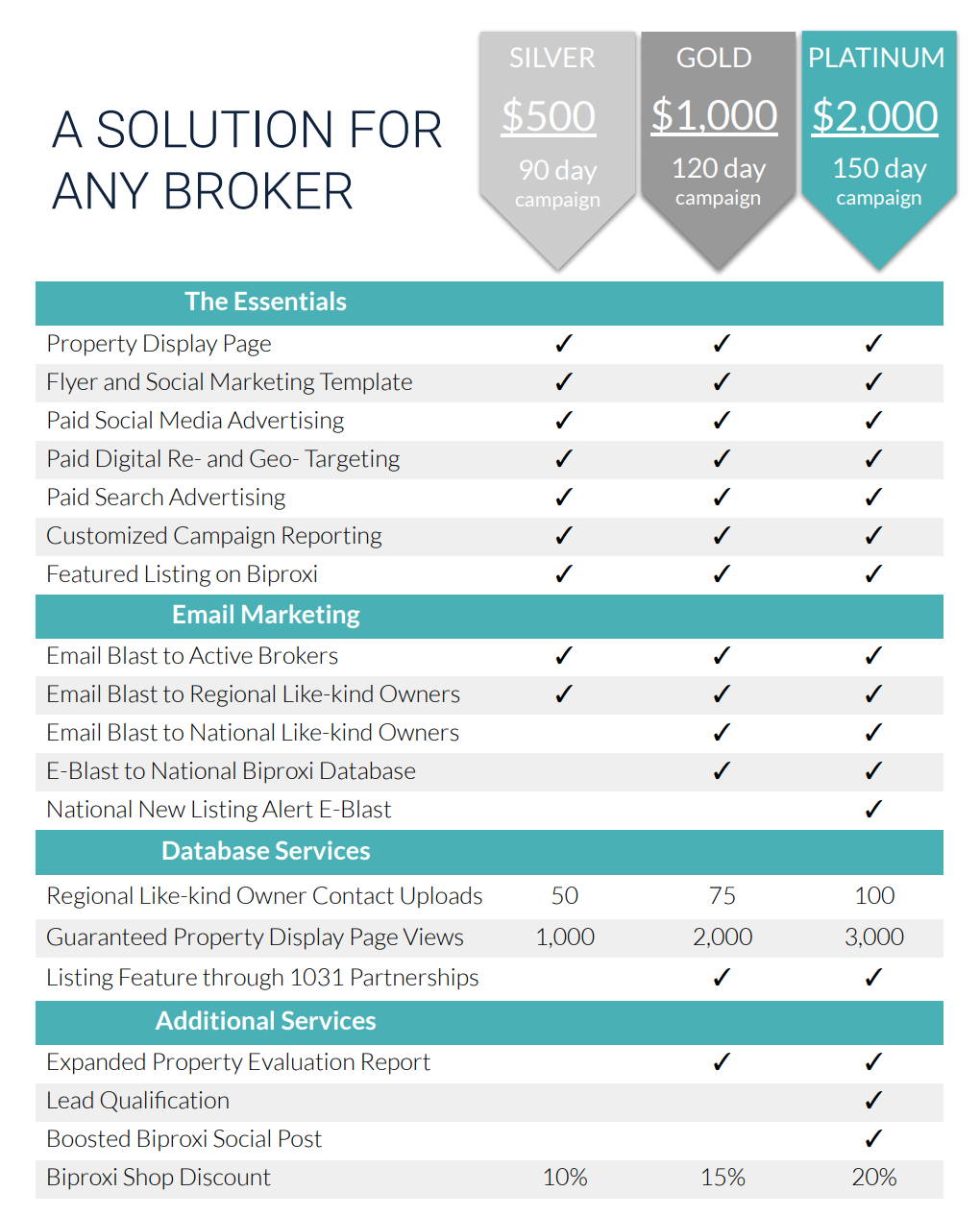 Commercial Real Estate Marketing Concierge

With a wealth of experience marketing commercial real estate in the digital space, Biproxi is proud to introduce our Marketing Concierge service. Using our proprietary technology and proven methodology, we deploy strategic CRE marketing campaigns to sell your property faster. Best of all, it is a risk-free offering for brokers - we only charge 0.5% buyer-side upon sale to a lead we generated.
How it Works
1) Order Online answering a few short questions at checkout.
2) A discovery call is arranged with a Biproxi CRE Marketing Strategist.
3) Following discovery call, a custom marketing campaign will be built to advertise your property to the most likely buyers, utilizing a host of various marketing services.
4) Weekly reporting will keep you up to date and leads will be provided real time as they come in.
Biproxi will create, manage, and optimize a multi-channel commercial real estate marketing campaign for your property to generate meaningful leads.
If you have any questions about Marketing Concierge, please use the form at the bottom of this page. Our team is standing by.
---
At sign-up a designated Marketing Strategist will be paired with you and your property/ies. That Marketing Strategist will work to understand your asset/s to create a custom campaign to expose your listing to the right buyers at the right times.
Once we've received the okay to go live with your campaigns you will begin receiving leads in real time. When a lead inquires about your property, you'll be notified directly by email.
As your campaigns run, we'll learn who responds to your listing and our advertising efforts. With this, we will hone-in on the ideal buyer.
---
---
Once matched with a dedicated Marketing Strategist, a discovery call will be scheduled at your convenience. In this 15 minute call we will review the property details to ensure we're positioning your listing for success.
---
Your Marketing Strategist will work with our design and data team to put together a multichannel marketing campaign for your property. This process typically takes 5 business days. Once done, we will present a marketing package proposal for your review and approval.
Campaign Reporting & Optimization
---
We will send weekly reports reviewing our marketing services and provide insight into ad performance. Leads will be delivered straight to your inbox as they come in real-time.
At closing, we collect 0.5% from the buyer side (adjustable broker/buyer split based preference).
---
If you have any questions about our CRE Marketing Concierge, please use the form below. Our team is ready to help!
Thank you for reaching out! A team member will be in touch shortly.
This field is required
This field is required
This field is required