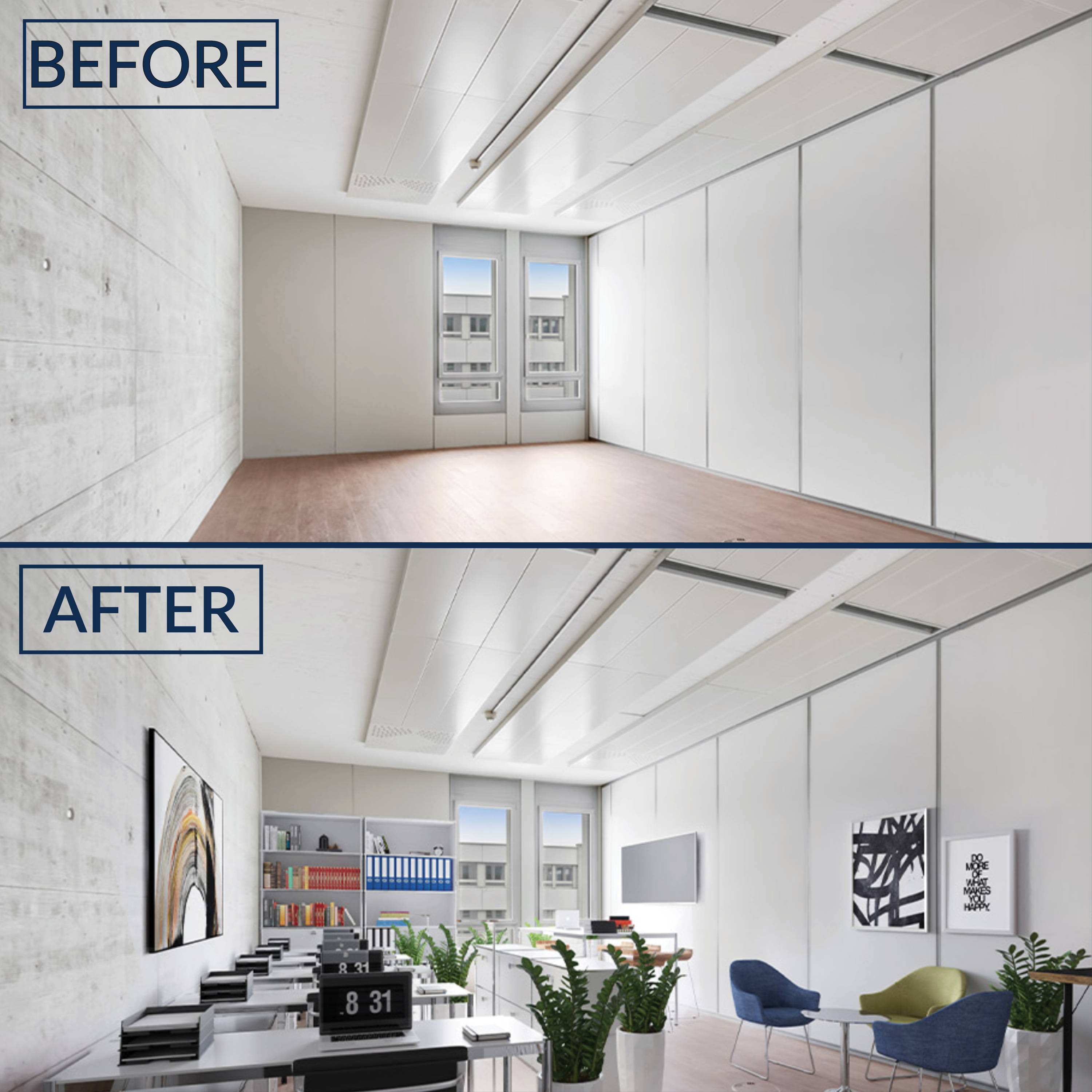 Spruce up real estate photos by virtually furnishing the interior of your space and show prospective buyers the versatility of your property.
You'll receive your edited photos 48 hours from when the order is received.
How it Works
1) Order online answering a few short questions at checkout.
2) The Biproxi Design Team will get to virtually staging your property.
3) Your new digitally staged real estate photo will be delivered to your inbox within 48 hours.
*Preferred image files are jpg., png., .gif & pdf -- Biproxi will review all photos, but can't guarantee compatibility with editing software if not jpg., png, .gif or pdf.
If you have any questions about real estate virtual staging, please use the form at the bottom of this page. Our team is standing by.
With a guaranteed 48 hour turnaround time from the moment your order is placed, know your custom digital staging photo will be arriving shortly after purchase.
Certified according to the Level 1 PCI DSS standard. What does this mean? It means that your information is equipped with data encryption tools that ensure your information stays just that -- Yours.
With a dedicated support team to answer all your questions, know that we're here to help. If you have questions, we have answers.
---
---
Fast and secure online ordering allows you to place your order in minutes. Answer a few short questions and upload your photo at checkout and the Biproxi team handles everything thereafter. You can step back and focus on your client.
Professional Virtual Staging
---
With a team of professional designers, we're able to consistently deliver exceptional imagery edited by the best. Our team will process the imagery and edit your photography to virtually stage the room with furniture and modern decor.
---
Your edited photography will be delivered to your inbox within 48 hours of purchase and can be used across all marketing channels. Impress your clients and make your listing stand out.
Frequently Asked Question
How is virtual staging done?
Virtual staging, also known as digital staging, is an excellent and easy way to improve the appearance of your real estate property photography. Using graphic software, virtually staging properties is a method of enhancing photos digitally while not altering the property or room in question. That graphic software allows a designer to create virtual furniture staging that shows off a room in its highest and best use (as determined by the real estate agent), while keeping costs down vs. traditional staging.
Is virtual staging legal?
Real estate virtual staging is legal, but there are certain precautions that should always be taken when doing digital staging. Disclose all virtual staging and, unless explicitly mentioned, don't substantially alter the appearance of the room being virtually staged beyond the insertion of furniture (don't cover up existing issues). If the platform is appropriate, show before and after images to allow the prospective buyer to see the room as it currently stands.
How much does virtual staging cost?
Virtual staging costs run a wide spectrum, but typically range from $30 per room to well over $150 per room. Digital staging costs vary depending on the size of the room being staged, the skills of the designer involved, the number of photos to be staged and the company commissioned for the job. For the real estate virtual staging companies that offer the best services you can expect to pay in the $100 per room range for virtual furniture staging.
Limited Offer - 10% Off Your Virtual Interior Staging
---
If you have any questions about digital staging, please use the form below. Our team is ready to help!
Thanks!
This field is required
This field is required
This field is required